Born in 1931, Don Hunt grew up in Ferndale and lived on Ardmore Street. His interest in animals started at an early age when his mom allowed him to buy and raise a pair of Mallard Ducks and a pair of Chinese Ringneck Pheasants in their backyard. When they produced babies, he sold them to friends. At the age of 11, Don wanted to buy a puppy from the local pet store but was short on cash. He put a deposit of $56.00 on a female Springer Spaniel pup which he named Penny. He also got a job at the pet store as part of a deal he made with the owner. After paying off the balance, he continued to work there throughout High School. Don still has the tag from Penny.
Don graduated from St. James High School in 1949. He then attended 3 years at the University of Detroit while working part-time at the pet shop. Don served 2 years duty in the Army during the Korean War. When he returned home, he learned the store was for sale and purchased half-interest in the Ferndale Feed and Pet Supply from Stewart Morley; Don Butcher purchased the other half. The cost was $20,000. Don's Mom and Dad had to mortgage their house to loan him enough money to pay for his share of the purchase.
In the early 1960s, The "B'Wana Don in Jungle-La" show was created and appeared on Saturday mornings on local channel WBKD TV-2. Don and his Chimp named Bongo Bailey were the stars. The title that Don received, and is known by many, as "B'Wana Don" was created for the show.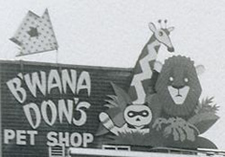 B'Wana Don's was also the name of the 3rd store that Don owned and was located at 22041 Woodward Avenue in Ferndale. In 1967 Don and the show were sent to Kenya to film 130 episodes but the series was never completed. That did not stop Don who fell in love with the country and decided to stay.
The B'Wana Don show ran from 1960-1963 and was popular in Detroit and Cleveland and then was seen around the world in countries like Japan and Australia. While away in Kenya, the B'Wana Don's pet shop was run by Don's brother Pat. The pet shop stayed in business at the 22041 Woodward location for 45 years when it was sold in 2004. There were B'Wana Don's pet shop franchises in malls and throughout area. In all, there were 3 Hunt's pet store locations in Ferndale, with a combined total of over 50 years in business.
William Holden, the famous actor and Don would go on many safaris in Kenya and a friendship grew which lead into a business venture. After 3 years of safaris with Bill, The Mount Kenya Game Ranch in Nanyuki near Nairobi was the place where they would start their conservation of wildlife. William Holden passed away in 1981. Today, along with the original Mount Kenya Game Ranch, The Mount Kenya Wildlife Conservancy is a nonprofit foundation that assists and manages wildlife conservation projects. They are working to restore the Mountain Bongo Antelope which is one of the most endangered species of animals.
In 1967, the International Animal Exchange (IAE) was born when the need for animals throughout the world grew. The IAE at one time was the biggest supplier of animals to zoos providing some 75% at the time. If a zoo needed an animal, the IAE was the company on the top of the list to call. The IAE is still in business in Royal Oak.
Hunt's International Travel Agency, the "go-to" place for travel to East Africa, offered "zoofaris" to see wild animals with a guided tour. In the 1st year they earned $325,000. The business started in 1968 within the B'Wana Don's pet shop, then moved to its own location at 22750 Woodward Avenue in November, 1970.
Safari theme parks were also created by Don and his brothers throughout the United States. There was a walking pet zoo located on Bob-Lo Island. Today, they still operate the African Safari and Wildlife Park in Port Clinton, Ohio.

Don has been married for over 45 years. He met his wife Iris in Nairobi, Kenya. Iris founded The Mount Kenya Animal Orphanage which has rescued and released back in the wild over 1500 animals. Don and his wife have a son and daughter and two grandchildren. Don also has 4 children from a previous marriage.
Don still travels back to Michigan once every few years to his place on Burt Lake. Though he lives in Kenya, Don Hunt considers Ferndale his hometown and a great city.