Established in 1919, by Harvey S. Jacobs, The Ferndale Gazette was the local newspaper for the City of Ferndale for over 50 years.

Former Ferndale Mayor Albert Gertley worked as a staff photographer for the Gazette in the 1960s and the late Councilwomen Gerry Kulick was an Editor of the Gazette paper for a number of years.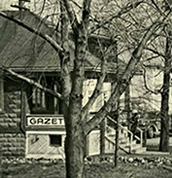 From 1919 to 1958 the name of the paper was The Ferndale Gazette. From 1958 to 1963 the name was The Ferndale Gazette-Times. From 1963 to its closing was The Legal Advertiser and Ferndale Gazette-Times.

For the majority of the papers existence it was located at 116 West Nine Mile. Over the years it has moved location to Woodward Avenue and East Nine Mile.

Over the years the paper changed owners many times. The Ferndale Gazette closed shop in the late 1970s.

---

Gazette Mast heads 1927 - 1965